Zisser Marine
All Vessel Electrical Repair, Maintenance and Upgrade Specialists
Specialized marine technicians, adept at swiftly addressing electrical, electronic, and A/Vl issues, from complex mysteries to routine fixes and enhancements, with a focus on innovation and first-time results.
Schedule our Services
We're ready to offer quick service. Please schedule an appointment by clicking below and tell us the details of your vessel and the types of services you are requesting. Tell us the location, time and date you want us to arrive and we will be there.
View Project Gallery
View photos of our recent projects and see examples of what our team is capable of installing, repairing, and maintaining on your vessel to keep in top shape all year around. Reach out for more details on our team's technical experience. 
Experienced Marine Electrician for Hire
We Service All Varieties of Power and Sail Vessels
Our experienced technicians are equipped to service both power and sail vessels of all sizes and ages. We are based in San Diego and service all Southern California Marinas, including special support services in Mexico and other international locations.
24/7 Emergency Services Are Available!
Serving All Southern California Marinas, San Diego, Mexico, & International Locations
With years of expertise, education and training we deliver high quality and customer focused services on all types of electrical, electronic and audio/visual systems. We offer a full range of marine services for vessels of all types and sizes, including repairs, replacement, installations, upgrades and maintenance.
General / Core Electrical
Boat not working? We are available for battery system inspection/replacement, chargers, transfer switches, system overhauls, AC system configurations, upgrades and more!
Navigation Equipment
We provide general repair and advanced troubleshooting for chartplotters, radars, autopilot, wind instruments, safety systems, VHF, and system networking within all your nav equipment.
House & A/V Electrical
We service all interior / exterior house electrical systems; including lighting, appliances, stereo system, A/V install, entertainment, outlets / power distribution, and bilge pumps.
Battery / Inverter System
Battery systems can be complicated for marine use and we offer extensive repair services on boat batteries, lithium upgrades, inverters, chargers, transformers, and bonding system.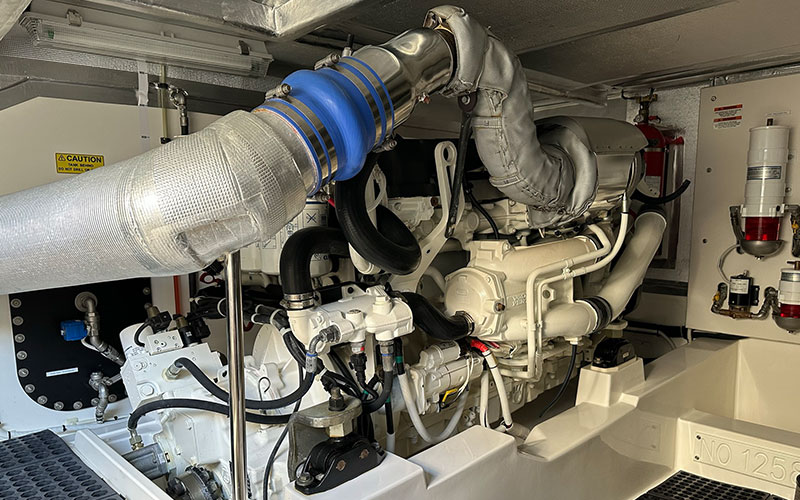 Engines / Generators
If it doesn't crank, we can support repairing engines or generators, otherwise we can find you repair support in our network. We also work on starters, alternators, senders / gauge issues.
Fishing Boat Electrical Equipment
All varieties of repairs including Fishfinders, Sounders/Transducers, bait tank pumps, fish box macerator and ice chippers, downrigger and outrigger electronics, and deck lighting.
Heavy Equipment
This service includes repairs to equipment like Windless, Thrusters, Davit, Stabilizers, Swim platforms, Watermaker and other heavy duty marine equipment.
Boat Management
We are available to manage and coordinate repairs for your vessel. Hire us for an even more in-depth management package to always keep your boat in good repair for the next voyage.
San Diego Marine Electrician for Yachts, Sailboats, and Large Commercial Vessels
Don't delay fixing boat electrical issues. Electrical systems in vessels can fail in a multitude of ways, and when out on the water, you risk the lives of all the passengers aboard.
With years of expertise, education and training we deliver high quality and customer focused services on all types of electrical, electronic and audio/visual systems.
We offer a full range of marine services for vessels of all types and sizes/
Call in our team for repairs, replacement, installations, upgrades and maintenance.
When you hire a boat electrical repair professional vs. hiring a general boat handyman you will have more confidence on the water with the training and knowledge of your new installed technology.
We're ready to help repair or improve pleasure boats, sailboats, small boats, pontoon boats, and even 100+ ft yachts!
Pictured is Zachary Zisser, Lead Marine Electrician / Owner of Zisser Marine Service
Electrical Repair, Replacement, Upgrade, and Maintenance
Marine systems are complicated. We are experts at simplifying and clarifying so you can optimize, leverage and maintain all your marine equipment and systems with confidence and safety. Zisser Marine offers high quality and customer focused service on all types of electrical, electronic and audio/visual systems.
Troubleshoot/repair issue
Equipment upgrade consultation
Install new/equipment
Purchase New equipment
Vessel Inspection
General Maintenance
Training/Education
Contact us for quick support and advice on marine electrical systems.
Call in Zisser Marine Specialists!
Support for Purchase & Install of Trusted Marine Electronics Brands
Hear from our Happy Customers
Read comments about how we strive to exceed expectations with the best boat electrical support service for our customers.
"Zach is so honest and reliable. He had to search for over an hour to find a random part for my radar and he was successful. He also checked on some connections to make things work better. He then took some time to teach me how to use my equipment. Such a nice and thoughtful business owner. I'll be calling him for all my radar and electrical boat stuff. My husband loves the new fish finder stuff."
"This is not rocket science… Hire this guy! I used Zach several times to inspect, diagnose and rectify several issues I was having on my hunter 45 DS. Zach and his team are professional, timely, and efficient. In this era of contractors that don't call you back, overcharge, and do shotty work, Zisser Marine stands alone as a one of the few true marine repair professionals in San Diego."
"Had Zach out to our boat to look at an engine starting problem that the "experts", couldn't figure out. Zach found the problem in 20 minutes, that was stumping the other guys for several months. I highly recommend Zach for any marine electrical issues, he's the best."
"Professional, courteous and very timely. Sure wish all other marine service providers were as professional in providing services.
Would definitely recommend Zisser Marine."
Avoid Nasty Electrical Jobs and Hire a Reliable Marine Electrician!
Marine Electrician & Specialists for Yacht, Power, and Sail Boats
San Diego and International clients trust our reliable mobile marine repair services for finding and fixing complex electrical issues.
We offer 24/7 emergency services and request you setup an appointment online to get started.
"I believe that electrical risk can be avoided with safety (doing the work right), quality (using equipment that won't fail), and proper client training on their vessel's electrical system requirements." – Zachary Zisser
It is recommended to work with a true specialist for your electrical repair and hope you will choose our trusted service, proudly run by Zachary Zisser, who holds a Bachelors of Science in Mechanical Engineering from University of California, Merced.
Schedule appointment for marine electrical services and let's investigate or troubleshoot your vessel's electrical together!
Examples of When to Call for a Boat Technician:
Core Electrical Troubleshooting
Issues with everything from battery system inspection/replacement, chargers, transfer switches, system overhaul, AC system configurations and upgrades.
My boat is dead. No power is working, I can't even use any lights.
Why won't my boat start.
My a/c is not receiving any power.
Fishing Equipment Troubleshooting
Issues with sounders/transducers, bait tank pumps, fish box macerator and ice chippers, downrigger and outrigger electronics, and deck lighting.
My bait tank stopped working.
I want to upgrade my transducer.
My transducer stopped working or I cant see any fish.
My fish box isn't draining.
Navigational Equipment Troubleshooting
Issues with chartplotters, radars, wind instruments, and system networking:
Radar not turning on or not accessible on your chartplotter.
All your electronics aren't talking to each other as they should.
Chartplotter won't power up.
My windvane (or mast head unit) is no longer showing any data.
Nav lights are not working anymore.
Issues with fireboy, VHF, SSB, alarm systems, bilge pump, monitoring system, etc:
VHF can't hear anything on channel 16 and no one can hear me.
My VHF wire for the mic is broken.
My bilge is full of water and I don't know if the bilge is working.
Bilges on my boat need to be checked and serviced.
My fireboy system is alarming and I don't know why.
House Systems Troubleshooting
Issues with all electrical system to run all onboard house systems, this includes pumps, lights, outlets, appliances, monitoring systems, as well as sound and entertainment systems.
My cabin lights are not turning on.
The voltage is low on the panel and everything is on.
I need to add new underwater lights and need it wired.
My stereo doesn't sound great and doesn't have Bluetooth upgrade
Engine/Thruster and Windlass Systems Troubleshooting
Issues with both generators and engines electrical system services, if the engine doesn't crank give us a call and we can get it cranking and figure out your deeper issues
Try to start my engine and nothing happens.
Engine isn't charging the batteries.
Generator won't start, and doesn't make any noise.
Thruster doesn't turn on anymore
Windless isn't working
San Diego, a coastal jewel embraced by the Pacific Ocean, stands as a beacon for maritime enthusiasts from across the globe. Its unique blend of scenic beauty, diverse marine life, and a year-round Mediterranean climate makes it an exceptional destination for those...
read more
Contact Us to Buy Marine Electronics Parts, Install New Equipment, and Troubleshoot Boat Issues
Need boat electrical parts? Contact our service team to purchase or recommend the parts to equip on your marine project. Speak with Zachary at Zisser Marine Service so you can improve your boat electrics system by working with a Mechanical Engineer by education and Prototyping Engineer by experience.
Call our experienced in team in San Diego for marine electrical, mechanical troubleshooting, boat repair, computer services, and general yacht maintenance and repair.
We Service All Major Brands of Marine Electronics in San Diego and Internationally
Zisser Marine is one of the top marine electrical repair services in San Diego, for repair and purchase of many renowned brands like Navico, Simrad, Lithionics, FCI, Intellian, Raymarine, Victron Energy, Blue Sea Systems, Garmin, and more.
Contact our Local Boat Mechanic and Electrical Repair Service in San Diego
We are a global company that not only serves at one particular location but delivers optimum boat mechanic and repair services across the globe. You can reach Zisser Marine quickly by calling or scheduling an appointment for servicing, repair, or complete new installation in your boats or yachts.
Contact us for any inquiries and service-related details about your vessel and we'll be more than happy to serve you with the best repair service in San Diego.
Please start by scheduling an appointment in San Diego or internationally. We are available to serve your diverse business needs 24/7 and do provide emergency repair services when required.